The Key Benefits of Network Operations Center as a Service
Network Operations Center as a Service, or NOCaaS is a product within our Vigilance product line that provides remote monitoring, notification, and management of technology assets. This service specializes in the monitoring and management of Private Circuits, MPLS, Metro Fiber, Internet Services, Point to Point, Broadband, DSL, 4G and more.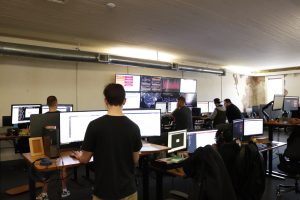 Networks can be expensive to maintain, but it is necessary to maintain different aspects of business. Outsourcing to NETRIO can help ensure your networks are being taken care of. Not only can NOCaaS measure, analyze and secure your networks, it can also increase the efficiency of the overall business. Trusting NETRIO with your NOC can allow employees to focus on other tasks that can keep the needle moving forward and allow us to take care of the network.
Benefit #1: Around the Clock Support
Both of NETRIO's NOC facilities operate 24 hours a day, seven days a week, 365 days a year. Rain or shine, we are here to ensure the performance of your network runs functionally. The Network Operations Centers as a Service operate in both McKinney, TX, and Austin, TX to ensure we can deliver support services regardless of when they are required. We act as an extension to your business and deliver a seamless experience.
Benefit #2: Proactive Approach towards Problem Resolution
NETRIO monitors your assets, both circuits, and circuit termination equipment for potential outages and/or service degradations. Our Network Operations Center as a Service proactively monitors these assets, allowing us to predict and prevent outages by performing corrective action.
Benefit #3: Highly Mature, Efficient,Incident Management and Resolution
Incidents are bound to happen; but they don't need to be a source of stress for your company. By outsourcing the management of your carrier-related incidents to our NOCaaS, we take those responsibilities off of your plate and leverage our years of experience navigating their processes and procedures to deliver results quickly and efficiently. We have the ability to escalate issues that may arise and get them solves as soon as possible.
Benefit #4: The Data always Tells the Story through Reporting and Analytics
Our advanced software solutions allow us to report on virtually any metric monitored for an organization. Having the data available to analyze allows you to make informed decisions when it comes to your IT assets.
Benefit #5: Cost Saving and Customization
Our Network Operations Center as a Service is designed to assist your company by saving time and money by providing the best software and tools needed to monitor your networks.  NETRIO can customize a plan that works best for your business and operations. Our highest priority is making your networks run smoothly and allowing your in-house employees to focus on what they do best.
For many businesses, the success of the company depends heavily on your network and IT systems operating to its highest functionality. NETRIO can provide stability, functionality, and security. It's imperative to have a highly capable resource continuously monitoring your systems, 24/7/365 – and NETRIO can be your trusted solution. Contact us for more information on NOCaaS and let's discuss how utilizing a third-party can work for your business.