Microsoft Teams and Working from Home
Unless you work in one of a few very unique businesses, emergency services, healthcare, grocery, or other essentials goods and services, you have likely been working from home for the past several weeks.  There are certainly challenges in that scenario, but also huge opportunities.  Enter Microsoft Teams.
[Staying Connected using Microsoft Teams]
The increase in the usage of the Microsoft Teams platform over the last week has been phenomenal.  When considering the value that it provides for the continuity of communication internally for a business, it's no wonder organizations are relying on it to keep their teams connected.   It truly lives up to its name, Microsoft Teams.  Through the use of Channels within the application (think HR; Sales; Operations), you can communicate with your teams in real-time from your desktop, mobile app, or web app using typed messages, audio, video, whiteboarding, and screen sharing.
[Microsoft Teams Integration Capabilities]
The application gives you a dashboard into your day with its integration to your Office 365 Calendar, OneNote, and even a third party application we use Zoho One (for CRM, Project Management, HR, Etc).  But it doesn't stop there, there are literally pages of apps that you can integrate with the Teams interface.  The possibilities are literally endless.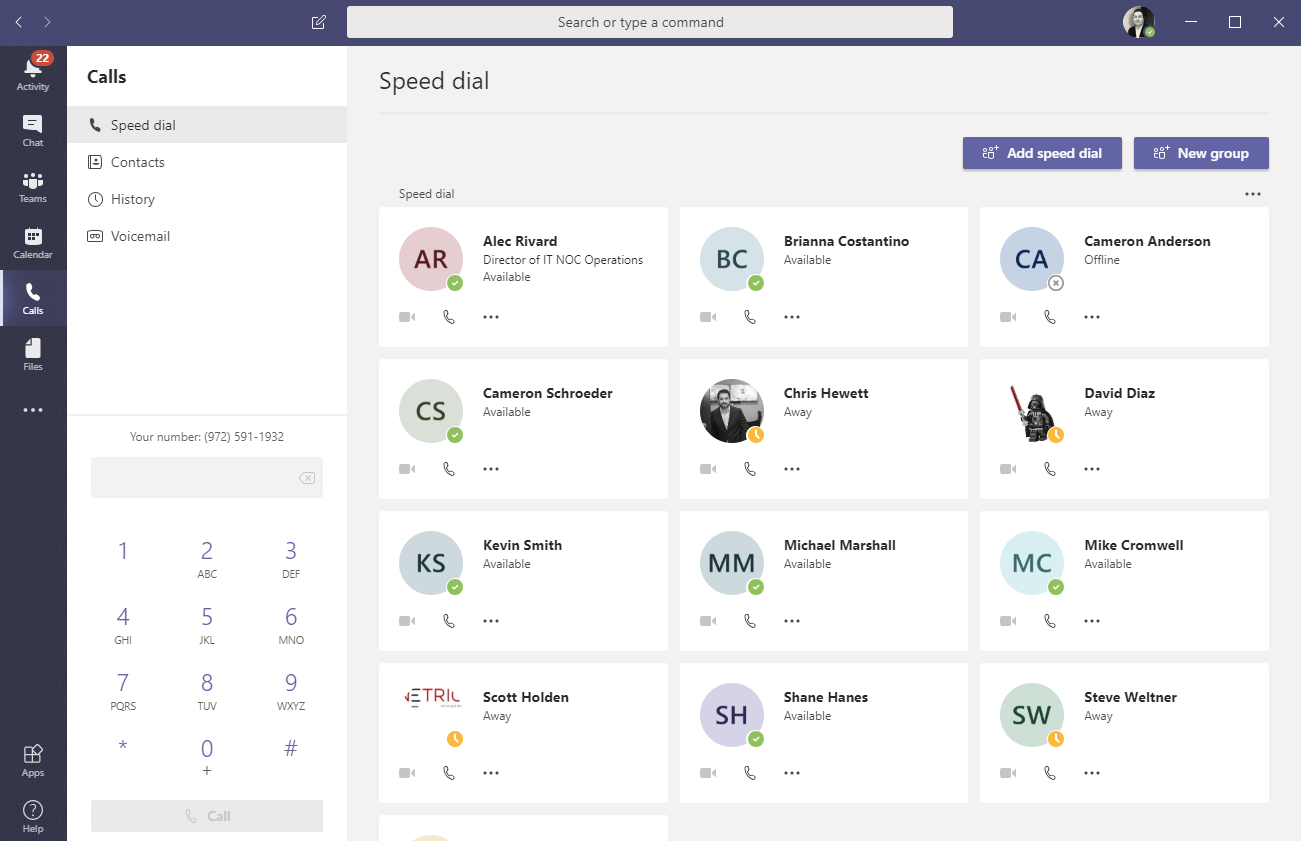 [Microsoft Teams Connecting to Sharepoint and OneDrive]
If you click on the Files Tab in the Navigation Pane of Teams, you can access all of the Recent Sharepoint Files you have opened, as well as access your personal OneDrive account storage.   It even allows you to view files that you have used within Microsoft Teams, and is capable of connecting to your Dropbox account.
Then comes the real icing on the cake…
[Microsoft Teams Direct Number Routing]
What happens when you introduce Dial Tone features and PBX Functionality?  You now have an all in one communications solution that removes traditional barriers from communicating with external resources.  This means seamless connections for audio and video with clients.  Screen sharing capabilities within Conference Calls natively within the Microsoft Teams Web Application, the Desktop Client, and/or the Mobile App.   I have found myself using the mobile app to make outbound phone calls to join "other" conference services that I didn't initiate.  It's that good.
If your organization is considering a change to how you consume dial tone services, Microsoft Teams should be a front runner in your evaluation process.   It offers full PBX features and functionality as an additional licensed feature within Office 365.   NETRIO can provide the consultation required for the successful architecture, planning and transition of your organization from legacy communications systems to cutting edge collaboration solutions.
I welcome your feedback and questions to brian.devault@netrio.com – or connect with me via LinkedIn at linkedin.com/in/briandevault